An ability to manage a big number of predefined messages helps faster set up a new account or create working space for a new employee. We offer a possibility to import and export predefined messages. If you need to transfer them to your database or a different account, you can quickly export them to a CSV file. While importing the responses you need to fill out special template of a CSV file and later import it to your account keeping the proper file structure.
Predefined responses bulk import
While managing the account you may need to add a big number of predefined responses which are already saved in your database. For this purpose we offer an ability to import predefined responses from a CSV file. The number of responses is not limited in this case, you can add new responses for your account, departments or agents in bulk with a couple of clicks:
To import, click the "Create multiple canned responses from a spreadsheet" link.
You will see the a screen, which will contain the link to our template spreadsheet and the detailed instructions on how to correctly fill out the file.
Once you have added your canned responses to the template file, go back to the screen above and proceed with uploading it by clicking "Choose File" and "Create" buttons.
Predefined responses bulk export
If you need to add the responses from your account to a database or make multiple updates in them, you can export them to a CSV file with a couple of clicks:
To export, click the "Export canned responses to a .CSV file" link.
You can export all of your predefined answers or only the ones assigned to specific departments / operators. You will be offered these options on the export screen.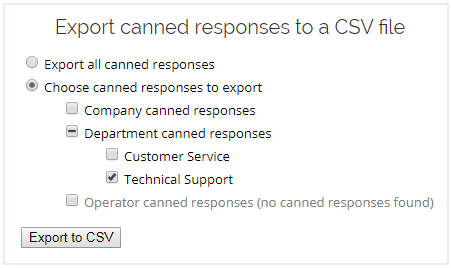 Transfer predefined messages to another account
In case you have several accounts in our system and would like to save your time on creating predefined messages in each account separately, you can export them from one account and import to another one:
Export your canned responses from the first account.
Open the exported .CSV file in a .CSV editor (Google Sheets, LibreOffice Calculator or MS Excel).
Go over all the fields in a file and make sure that operators and departments names and titles exactly match those of the second account to which you intend to transfer your predefined answers. If they don't match, you will receive an error screen and the import will fail.
Import the edited .CSV file to your second account.