Generating images with DALL-E
DALL-E is an artificial intelligence tool which can create realistic images and art from the text description. It is still in beta testing. Images editor does not support editing of the image itself. It allows extending the image by generating a new content and upload images of the objects which you can place on a generated image. There is also an eraser which you can use to remove the generated content to generate it anew with help of special content generation frame. You cannot edit the image which was generated by updating texts on it or filling out bubbles or windows on a schema.
At present you can generate an image based on your text description. It is very useful for marketing when you need to create different images for your blog and social media posts. For example, I wanted to get an image for my post about customer service. DALLE-E generated the following image based on my description: "a cat with earphones and a cup of coffee typing on a laptop photo":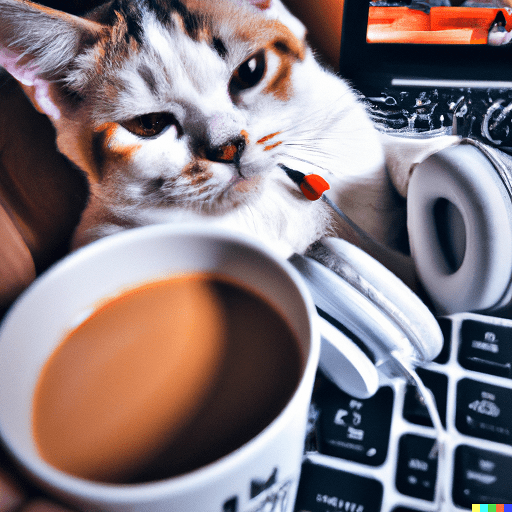 As you can see though it is not perfect but is quite realistic and may be a used to illustrate a post on social media. With DALL-E you get 50 free credits after registering an account and 15 free credits each month. Each click on "Generate" button takes one credit from your balance. This means you can spend all credits on extending one image, so be careful. If you run out of credits, you can always purchase them. 115 credits cost $15. Existing free credits are enough to evaluate the feature and decide whether it is worth using. However, it is not enough to use this artificial intelligence tool for marketing on a regular basis.